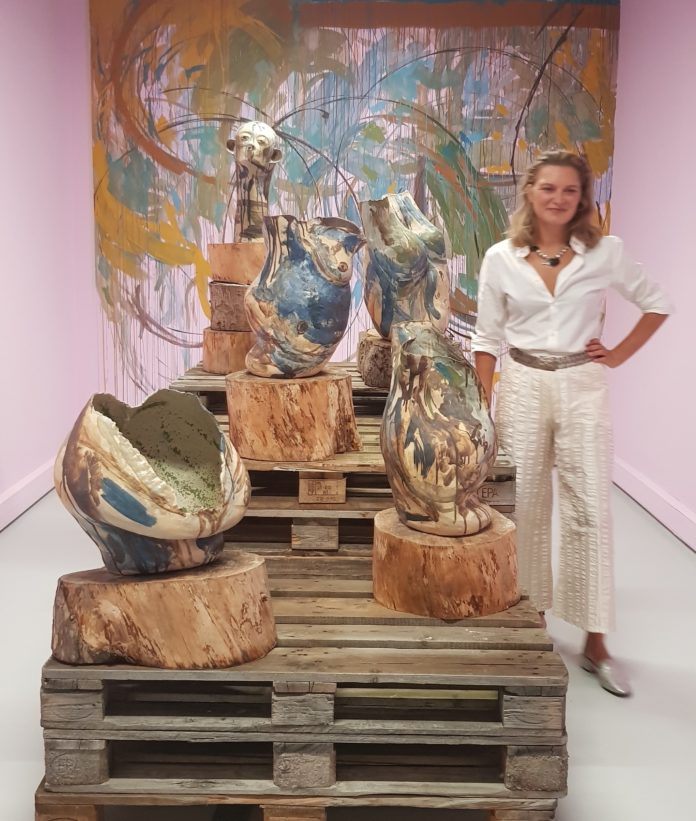 Zoé Paul, Voyages Immobiles Diptyque, Poste du Louvre courtesy the artist/Diptyque photo Marie de la Fresnaye, press visit
Travel is part of the essence of Diptyques fragrances. For its 60th Anniversary Diptyque is celebrating art, fragrance and faraway lands.
"Immobile Journeys/Voyages Immobiles" curated by Jérôme Sans in the new Poste du Louvre gathering contemporary artists and perfumers give new perspectives and horizons on travel through interpreting iconic Diptyque destinations. As a tribute to the three artist-aesthetes ' taste for beauty and cultures from all over the world, Desmond Knox-Leet, Yves Coueslant and Christiane Montadre who founded diptyque in Paris in 1961 this show reenact the Maison main sources of inspiration.
Starting in the the XVIIth century until the XIXth century, Le Grand Tour was a key part of the education of young European aristocrats, writers, artists, art lovers and collectors. Nowadays, travelling at the age of mass tourism has become the last refuge for unique experience. Real or imaginary. it has become more a state of mind. Multiple, simultaneous, and virtual with the new ubiquity given by technology, travel habits have changed a lot during the 21st century, as underlines Jérôme Sans. This stationary journey from France to Japan, via Italy, Greece and Lebanon starts with the evocation of Paris as a litterary destination with Joël Andrianomearisoa. Venice' mythology is embodied by artists : Gregor Hildebrandt, and Johan Creten. Japon minimalism inspired Horishi Sugimoto and Kankitsukan. Ange Leccia ' illuminated woldmapps embody the fragility and ephemeral universe. Greece is suggested by Andreas Angelidakis with a post apocalyptic environement and Zoé Paul ' site-specific installation who is my favourite choice.
Living in Athens and raised by South African parents between the UK and Greece, Zoé Paul (born in 1987, London) studied at Royal College of Art. She is more a discovery for us even she has already been exposed in major institutions such as MoMa. Classical mythology and the impact of technology on the lental dissolution of rutal traditions and communities is part of her main topics and inspiration. Social links and the value of the object is translated by the use of raw materials and craft techniques involving numerous mediums such as tapestries, ceramics, fountains, murals and large bead curtains made with thousand of handmade stoneware. She re-examine the usual link between feminity, primitivism and craft traditions. The bead curtains often hung in doorways in the Mediterranean are symbolising for her the boundaries between private and public space.
For Voyage Immobiles she has created The Cave of Chiron : a small bead curtains suggesting a hand, surounded by a golden crown, delivering the perfume. All this vision is inspired by a recent travel to the village of Miliès, Thessalie, where she discovered an ancient cave linked to Chiron figure, kwnown for his healing powers. The anthropomorphic ceramics were created in Scotland in a place called HospitalField, which gives the name of the works, a large house near a forest. They are made with raw oxydes suggesting the life of the materials themselves as usually in her creations. Following her residency at Sèvre Manufacture in 2019, major pieces including enameling specific technics were shown during the FIAC art fair.
She gave me an exclusive and very inspiring interview.
Zoé Paul @FOMO_Podcast 🎧
Version française :
Le voyage est l'essence même des parfums de Diptyque qui à l'occasion de son 60ème Anniversaire célèbre l'art, le parfum et les destinations lointaines.
Voyages Immobiles, sous le commissariat de Jérôme Sans à la Poste du Louvre réunit artistes et parfumeurs donnent leur vision du voyage en interprétant les destinations iconiques de diptyque. Tel un hommage aux 3 artistes-esthètes Desmond Knox-Leet, Yves Coueslant et Christiane Montadre, qui fondent diptyque à Paris en 1961, l' exposition fait revivre les principales sources d'inspiration de la Maison. Le Grand Tour, entre les XVIIe et XIXe siècles, qui était considéré comme un élément majeur de l'éduction artistique des jeunes aristocrates européens, des artistes et des écrivains en quête d'érudition, d'aventures, d'esthétisme. De nos jours, le voyage à l'ère du tourisme de masse est devenu l'ultime refuge d'une expérience unique. Plurielles, hybrides et simultanées de part l'ubiquité offerte par le virtuel, les habitudes de voyager ont énormément changé au XXIème siècle comme le souligne Jérôme Sans. Ce voyage par chapitre nous entraine du Liban à la France, de la Grèce à l'Italie en passant par le Japon. Il commence par l'évocation du paris littéraire avec l'artiste Joël Andrianomearisoa. Puis les sortilèges de Venise sont évoqués par : Gregor Hildebrandt, and Johan Creten avant d'entrer dans le minimalisme japonais avec Horishi Sugimoto and Kankitsukan. Ange Leccia à travers ses mappemondes lumineuses démultipliées souligne la fragilité des écosystèmes traversés. La Grèce des origines est évoquée par l'environnement post-apocalyptique de Andreas Angelidakis, et les deux créations de Zoé Paul, peintre et sculptrice qui a été un vrai coup de coeur. Née à Londres en 1987 de parents sud-africains, diplômée du Royal College of Art elle vite et travaille à Athènes. Artiste émergente, moins connue en France même si elle a déjà été exposée dans des institutions majeurs tel que le MoMa, elle est une belle découverte. Les grands mythes et l'impact de la technologie sur la lente dissolution des traditions font partie de ses sources d'inspiration. Les liens communautaires et la valeur de l'objet sont explorés par le recours à des matériaux et des techniques bruts intemporels à travers une large variété de médiums tels que la tapisserie, des peintures murales et de grands rideaux composés de milliers de minuscules perles en céramique roulées à la main en porcelaine, en or ou en grès. Elle réévalue les liens habituellement définis entre le féminisme, l'artisanat et les savoirs-faires traditionnels. Pour Voyages Immobiles elle a créée The Cave of Chiron : un petit rideau de perles en céramique, dessinant une main, élément récurrent dans son travail, surmonté d'une couronne en étain dégageant le parfum composé d'immortelles, de cyprès et de figuier. Cette vision lui a été inspirée lors d'un voyage récent dans le village de Miliès en Thessalie et sa découverte d'une grotte, liée à la figure du centaure Chiron connu par ses facultés de guérisseur. Les céramiques anthropomorphes ont été imaginées en Ecosse à HospitalField (nom de la pièce), une maison isolée au milieu d'une forêt. Elles sont faites à partir d'oxydes bruts ce qui laisse place à l'évolution de la matière, comme souvent chez elle. Dans le prolongement de sa résidence à la Manufacture de Sèvres en 2019, un vaste panneau perlé à trois volets inspiré de ses recherches et du répertoire de Sèvres ayant recours à des procédés d'émaillage spécifiques de la maison, avait été dévoilé durant la FIAC.
Infos pratiques :
Le Grand Tour par Diptyque
La Poste du Louvre
jusqu'au 24 octobre
du lundi au dimanche de 11 à 18h
Boutique éphémère