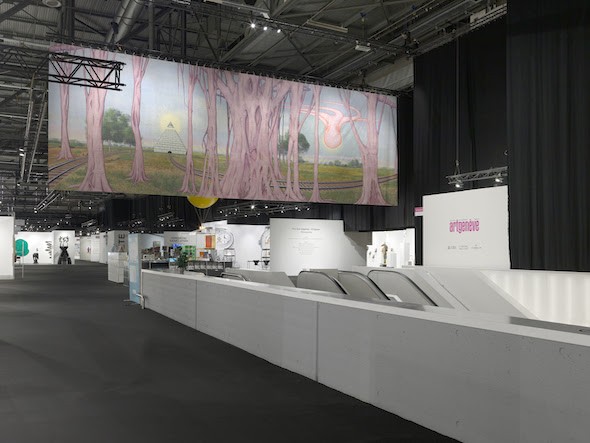 artgenève 2022, Jim Shaw, Banyan Tree Mural, 2010; Courtesy of Boijmans Van Beuningen / Photo: Annik Wette
artgenève, 11th edition will take place at Palexpo Geneva from 26 to 29 January 2023. In 2023, artgenève will host some 90 galleries of contemporary and modern art, including many national and international dealers loyal to the fair, such as Thaddaeus Ropac, Perrotin, Applicat Prazan, Almine Rech, von Bartha, 1900-2000, Templon, Nathalie Obadia, Franco Noero, Skopia, Tornabuoni Art, Urs Meile, Continua, Mai 36 and Van de Weghe. This edition marks the return of Gagosian, Galerie Eva Presenhuber, Waddington Custot and Mitterrand. Pietro Spartà, The Approach and Gallery Kendra Jayne Patrick, are among the first time participants this year.
The institutional and curatorial offer, one of artgenève's standout features, will present a generous program of special exhibitions unique at an art fair. As a fair, it goes beyond the framework of the contemporary and modern art market by showcasing the largest possible spectrum of spaces where one can experience and see art, including; galleries, museums, foundations, art centers, private collections, art spaces, art schools, artists' residencies, publishers, crafts and performing arts.
artgenève/estates will present an installation of several sculptures by the British artist Barry Flanagan in a vast space transformed into a desert. artgenève/musique will offer a large-scale space dedicated to sound with the participation of fifteen artists including Latifa Echakhch and Saâdane Afif. This section will also be the setting for performances honoring the olfactory in art. 
The Prix Solo artgenève-F.P.Journe will reward one of the 21 monographic exhibitions presented at the fair with the acquisition of a work. The 10th anniversary of the Prize will be celebrated with a retrospective of the works awarded in the last ten editions. La Mobilière will unveil the laureates of its prize dedicated to young Swiss artists, Gübelin will unveil an artistic vision inspired by a precious gem and m3 Group will present part of its corporate collection.
The salon d'art will count among its participants the Museum Frieder Burda from Baden-Baden with a focus on Andreas Gursky, the Fondation Dubuffet from Paris, the Serpentine Galleries from London, the Ringier Collection from Zurich with Rodney Graham, Arsenal Contemporary Art from Montreal and the Parisian artist residency POUSH. The MAMCO, the Centre d'Art Contemporain Genève, the Musée d'Art et d'Histoire, the art funds of the City and Canton of Geneva, Photo Elysée and All Stars from Lausanne, among others, will represent the regional landscape within the fair. In keeping with this spirit of openness, artgenève also invites the Musée du quai Branly and the Foundation Opale to participate in its 2023 edition with aboriginal art, as well as the Grand Théâtre de Genève and the Fluxum Foundation.
Sharing is at the heart of artgenève's intentions. The human-scale fair will offer a rich series of discussions and will invite food lovers to experiment with a cuisine combining mushrooms and citrus fruits at artgenève's new ephemeral restaurant as Night-Fall 2023 will take place in the splendid foyer of the Ariana Museum on the evenings of the fair.
Complete list of galleries :
 10 a.m. art | 193 Gallery | 31 Project | 1900-2000 | A arte Invernizzi | A&R Fleury | ABC-Arte | Afikaris | Almine Rech | Applicat-Prazan | Ayyam | Bailly | Bendana|Pinel | By Lara Sedbon | Catherine Duret | christian berst art brut | Christine König | Continua | Cortesi | Ditesheim & Maffei Fine Art | Edouard Simoens | Enrico Astuni | Eva Meyer | Galerie Eva Presenhuber | Fabienne Levy | Franco Noero | Gagosian | Gallery 1957 | Georges-Philippe et Nathalie Vallois | Gisèle Linder | Gowen | Haas | HdM | Heinzer Reszler | Hom Le Xuan | In Situ – Fabienne Leclerc | Juana de Aizpuru |Knoell | lange + pult | Laurent Godin | Le Minotaure | M77 | Maggiore g.a.m | Magnum Photos | Mai 36 | Mario Mauroner | Mayoral | Mezzanin | Michael Hoppen | Mighela Shama | Mitterrand | Monica De Cardenas | Nathalie Obadia | Nosbaum Reding | Olivier Varenne | P420 | Pablo's Birthday | Pascal Lansberg | Patrick Gutknecht | Perrotin | Peter Kilchmann | Philippe Cramer | Pietro Spartà |Poggiali | Primo Marella | Prometeo Gallery Ida Pisani | Retelet | Richard Saltoun | Rosa Turetsky | Sébastien Bertrand | Semiose | Simon Studer Art | Skopia/P.-H. Jaccaud | Studio Trisorio | Tang Contemporary Art | Taste Contemporary | Templon | Thaddaeus Ropac | Thomas Brambilla | Tornabuoni Art | Urs Meile | Van de Weghe | von Bartha | Waddington Custot | Wilde | Xippas The Living Room / We Are Two Abysses : Almeida & Dale | Amanda Wilkinson | Barbara Weiss | Christine König | Fitzpatrick | Francesca Pia | Gramma Epsilon | Jaqueline Martins | Kendra Jayne Patrick | Knoell | Larkin Erdmann | LC Queisser | Mai 36 | The Approach Syndicat des Antiquaires : Ary Jan | Jean-David Cahn AG | Eberwein | Hioco | Laurent Dodier | Léage | Meyer | Michel Giraud | Ratton-Ladrière art spaces, art editors & publishers All Stars | ColAAb | Editions Citadelles & Mazenod | Editions TAKE5 | Gilles Drouault | JRPIEditions | Klima | mfc-michèle didier | multipleart | We Do Not Work Alone institutions & special exhibitions Andrea Bowers – Fight Like a Girl (Capitain Petzel) | Arsenal Contemporary Art | artgenève/estates – Barry Flanagan | artgenève/musique | Association Lumen | Centre d'Art Contemporain Genève | Centre d'édition contemporaine | Centre de la photographie Genève X standard/deluxe | Documents d'artistes Genève | ECAL | Ecole Moser | EDHEA | Flux Laboratory / Fondation Fluxum | FMAC – Collection d'art contemporain de la Ville de Genève | Fondation Dubuffet | Fondation Montresso* | Fondation Opale | Fondation Teo Jakob | Fonds cantonal d'art contemporain | Grand Théâtre de Genève | HEAD – Genève | Hommage à la galerie Rivolta | Jeff Koons, Bluebird Planter | Leo Villareal, Optical Machine I (PACE)| m3 Collection | MAMCO Genève | Musée Barbier-Mueller | Musée d'art et d'histoire | Musée du Quai Branly | Museum Frieder Burda | Night-Fall – Festival for art & gastronomy | Photo Elysée | Poush | Prix mobilière | Prix Solo artgenève-F.P.Journe | Ringier Collection | Serpentine Galleries | Villa Arson
Practical Info :
Opening Times :
Jeudi 26 janvier: 12 – 19h
Vendredi 27 janvier: 12 – 20h
Samedi 28 janvier: 12 – 20h
Dimanche 29 janvier: 12 – 19h
Tickets :
Full CHF 20.
Book now !