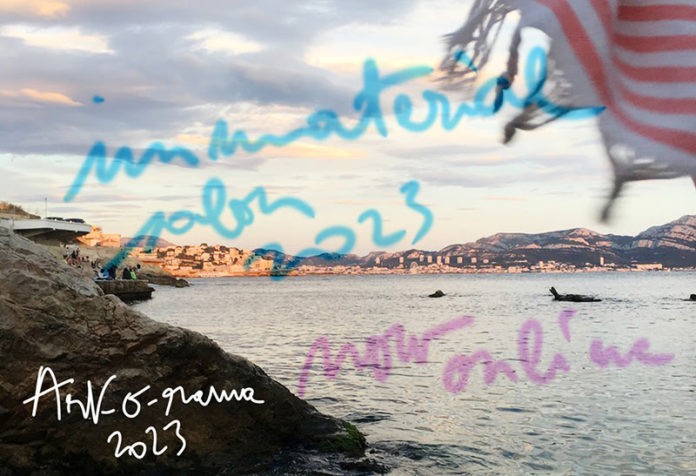 As Véronique Collard Bovy, co-director fo the fair, said in her recent interview (link to), Art-o-rama 2023 is reinforcing its international profile with a high percent of american galleries (6) and new participants (19). Europe is also very well represented with 26 galleries. The art and design sector is continued.
List of galleries : ADN Galeria, Barcelone · Alessandro Albanese, Milan · Artbeat, Tbilisi · Bibeau Krueger, New York City · Bombon Projects, Barcelona, · CASTIGIONI Milan · Cibrian San Sebastian · City Gallerie & Shore Gallery, Vienna · Doris Ghetta, Ortisei · DS Galerie Paris · eastcontemporary Milan · eins Limassol · ethall, Barcelone · Galeria Mascota Mexico · Galerie Maubert, Paris · Gilles Drouault Paris · Ginny on Frederick, London · Good Weather Chicago · Grant Wahiquist Portland ·HATCH Paris · IMPORT EXPORT Varsovie ·In Situ fabienne leclerc Grand Paris …
The Immaterial Salon, Art o rama's on line section dedicated to works that can be experienced both digitally and in real space, is now OPEN and available until September 10, 2023. It gathers :
Salle principale, Paris
Claude Closky, Jean-Baptiste Perret, les gens d'Uterpan, Elsa Werth
Cable Depot, London
Daniel Nicolaevsky Maria
South Parade, London
Garrett Lockhart
NO.NO, Lisbon
Mariana Caló et Francisco Quimadela
The Prizes :
BECAUSE OF MANY SUNS (The CollezioneTaurisano Acquisition Award)
Prix Benoît Doche de Laquintane : read my interview with the collector (link to)
Prix Coco Beach
Prix François Bret (Beaux Arts de Marseille)
Prix Marval
Prix Nice (He)art
Prix PÉBÉO
Prix Roger Pailhas
Save the Date !
August, 31 -September, 3
Art-o-rama Marseille, International fair of contemporary art, Salon International d'art contemporain
Friche la Belle de Mai, 41 rue Jobin, Marseille