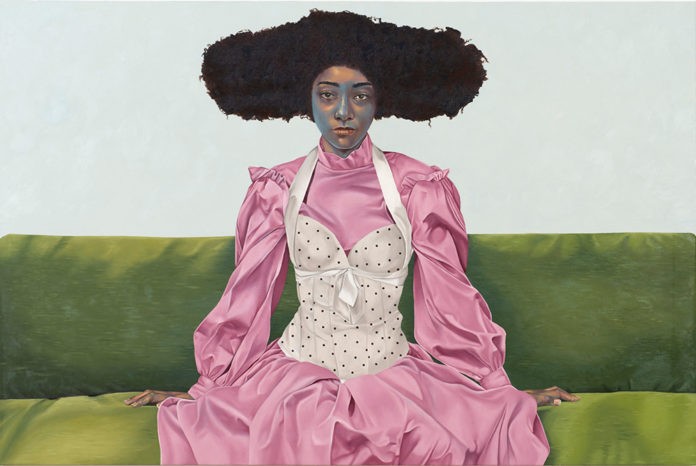 Robert Peterson, Head in the Clouds Claire Olivier Gallery
Celebrating its 10th anniversary in London, 1-54 Contemporary African Art Fair is delighted to
return to Somerset House with its flagship edition over the course of four days from 13 – 16
October 2022 (Press Preview 13 October). As the leading international art fair dedicated to
contemporary art from Africa and the African diaspora, 1-54 London 2022 will host 50 international exhibitors across 21 countries, its largest number of countries to date.
Of the 50 international exhibitors, 16 galleries are from the African continent, and 14 galleries will participate at the fair's London edition for the first time. Newcomers to the fair include albertz benda (New York, USA), Berntson Bhattacharjee Gallery (London, UK), Galleria Poggiali (Milan, Florence, Italy), Portas Vilaseca Galeria (Rio de Janeiro, Brazil), Selebe Yoon (Dakar, Senegal), and Unit London (London, UK), among others.
New and returning exhibitors will present over 130 artists working across an array of mediums from painting and sculpture to mixed media and installation. Works from established artists such as Ibrahim El-Salahi, Hassan Hajjaj, and Zanele Muholi to young and emerging artists including Sola Olulode and Pedro Neves will be on view.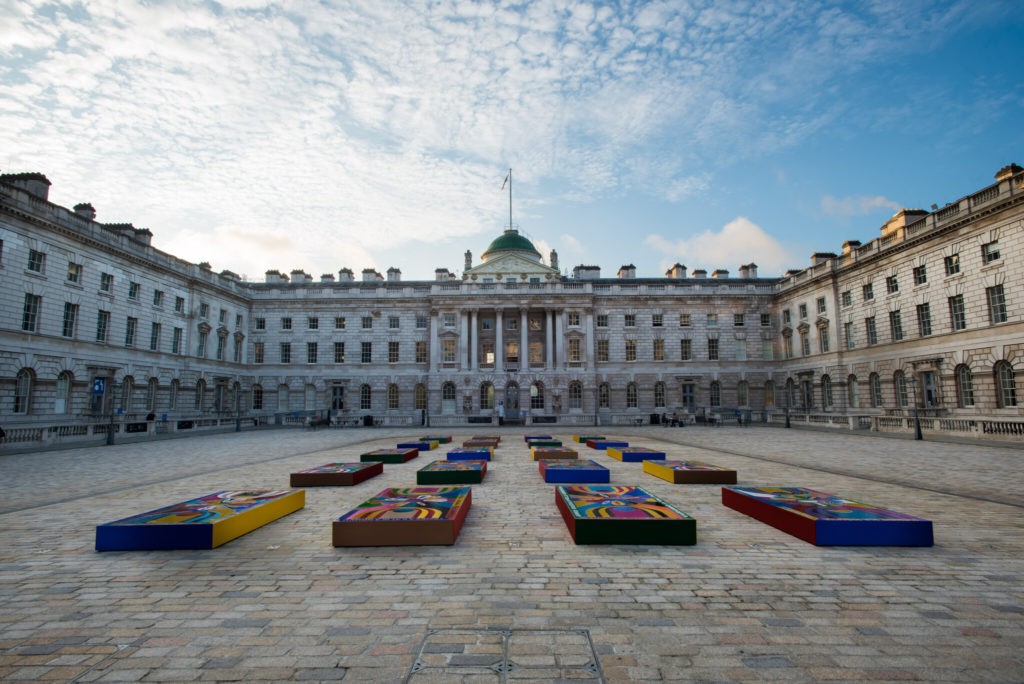 Specially presented by Somerset House on the occasion of the 10th anniversary of 1-54 Contemporary African Art Fair, interdisciplinary Lisbon-based artist Grada Kilomba will bring her critically acclaimed installation O Barco / The Boat to Somerset House's courtyard from 29 September – 19 October 2022.
The striking 32-metre-long installation is composed of 140 blocks, the configuration of which outlines the lower 'hold' of an historical European slave ship. Charred by the artist, the blocks contain poems in 6 different languages, intricately inscribed into their texture surfaces. Directly addressing the history of European maritime expansion and colonisation, the piece invites the audience to consider forgottenstories and identities. Alongside its sculptural elements, the artwork includes live performance, combining song, music, and dance, with music production by award-winning writer and musician Kalaf Epalanga. Designed and directed by the artist, the live ensemble brings new meaning to O Barco / The Boat, both acknowledging memories of the past and looking towards the future. Making its UK debut, Kilomba's installation will be on view in the courtyard throughout 1-54, with free performances on Thursday, 13 October (17:00-18:00) and Friday, 14 October (13:00-14:00)
Now in its third consecutive year, 1-54's continued partnership with Christie's signals the fair's strong and dynamic relationship with the global auction house. The collaboration also demonstrates Christie's commitment to showcasing contemporary African art to its global client base and enhancing exposure for the fair internationally.
Thanks to 1-54's long-standing partnership with Artsy, visitors are also able to explore, connect with, and collect from all the galleries and artists online from 13- 30 October at artsy.net/.
Special Projets will include :
'Love Letter', a specially blended tea developed in collaboration with British-Moroccan artist Hassan Hajjaj that captures the diversity of the African continent
• London-based artist Alfie Kungu's new solo exhibition co-presented with HOME by Ronan Mckenzie
• 1-54 Genesis Collector Pass, a collaboration with Code Green providing exclusive access to Genesis NFT Drops, where part of sales proceeds goes to epic African-led climate project The Great Green Wall
• Chef, restaurateur, and artist Akwasi Brenya-Mensa reimagines the 1-54 VIP Lounge with his multi-sensory installation Chop Bar conceptualising a traditional roadside joint of the future
• '1-54 Annual Book', a compilation of fair highlights over the past decade, featuring exclusive interviews with key personalities who have supported the fair.
List of participating galleries :
(S)ITOR (Paris, France)
50 Golborne (London, United Kingdom)
Addis Fine Art (London, United Kingdom and Addis Ababa, Ethiopia)
AFIKARIS (Paris, France)
Afriart Gallery (Kampala, Uganda)
albertz benda (New York, United States of America)
Berman Contemporary (Johannesburg, South Africa)
Berntson Bhattacharjee Gallery (London, United Kingdom)
Circle Art Gallery (Nairobi, Kenya)
Claire Oliver Gallery (New York, United States of America)
DADA Gallery (London, United Kingdom and Lagos, Nigeria)
Eduardo Secci (Florence, Italy)
Fridman Gallery (New York, United States of America)
Galerie Anne de Villepoix (Paris, France)
Galerie Carole Kvasnevski (Paris, France)
Galerie La La Lande (Paris, France)
Galerie Véronique Rieffel (Grand-Bassam, Ivory Coast)
Galleria Anna Marra (Rome, Italy)
Galleria Poggiali (Milan, Florence, Italy)
Gallery 1957 (Accra, Ghana)
Gallery Nosco (Marseille, France)
HdM GALLERY (Beijing, China and London, United Kingdom)
HOA Galeria (São Paulo, Brazil)
HUSSENOT (Paris, France)
Jack Bell Gallery (London, United Kingdom)
Kalashnikovv Gallery (Johannesburg, South Africa)
Kanbi Projects (Hertfordshire, United Kingdom)
Kristin Hjellegjerde Gallery (London, United Kingdom, Berlin, Germany, and Nevlunghavn, Norway)
L'Atelier 21 (Casablanca, Morocco)
Loeve&Co (Paris, France)
Loft Art Gallery (Casablanca, Morocco)
LouiSimone Guirandou Gallery (Abidjan, Ivory Coast)
Luce Gallery (Torino, Italy)
Montoro12 Gallery (Brussels, Belgium)
Nil Gallery (Paris, France)
October Gallery (London, United Kingdom)
Portas Vilaseca Galeria (Rio de Janeiro, Brazil)
Primo Marella Gallery (Milan, Italy)
Richard Saltoun Gallery (London, United Kingdom and Rome, Italy)
Sakhile&Me (Frankfurt, Germany)
Selebe Yoon (Dakar, Senegal)
Selma Feriani Gallery (London, United Kingdom and Tunis, Tunisia)
SEPTIEME Gallery (Paris, France)
SMO Contemporary Art (Lagos, Nigeria)
Taymour Grahne Projects (London, United Kingdom)
The Gallery of Everything (London, United Kingdom)
THIS IS NOT A WHITE CUBE (Lisbon, Portugal and Luanda, Angola)
Unit London (London, United Kingdom)
Vigo Gallery (London, United Kingdom)
WHATIFTHEWORLD (Cape Town, South Africa)
Dates and times :

Press breakfast
08:30 – 09:30 Thursday 13 October
Press preview
10:00 – 18:00 Thursday 13 October
VIP preview
11:00 – 18:00 Thursday 13 October
Public opening hours
10:00 – 19:00 Friday 14 October
10:00 – 19:00 Saturday 15 October
10:00 – 19:00 Sunday 16 October
Location
Somerset House, Strand, London WC2R 1LA, United Kingdom
TICKET HERE