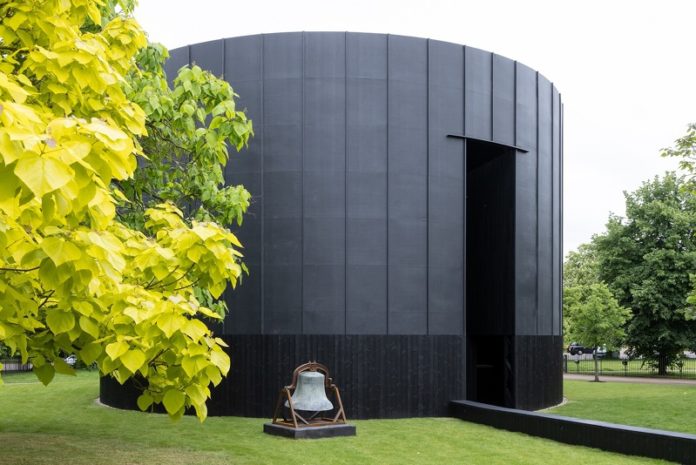 Serpentines Galleries -Frieze 2022 Theaster Gates
Together, Friee London and Freze Masters will bring together galleries from 42 countries, presenting art across the ages, from ancient and old masters to modern classics and the contemporary. Featuring some of the most exciting artists working today, as well as expertly curated selections from art history, both Frieze London and Frieze Masters will celebrate the depth and breadth of London's creative community.
Taking place from 12-16 October in London's The Regent's Park, Frieze London and Frieze Masters are supported by global lead partner Deutsche Bank, continuing a shared commitment to artistic excellence.
The world's leading galleries will showcasing ambitious solo, group and themed shows that offer an opportunity to discover up-and-coming talent and engage with work by some of today's most celebrated names. Highlights include:
James Cohan will present a solo exhibition of Elias Sime's 'Tightrope' series, which weaves repurposed materials – computer keyboards, motherboards, and electrical wires – into abstract compositions
Sadie Coles HQ will show a solo presentation of Ugo Rondinone's 'Mattituck' series of paintings that was first first initiated in 2020
Pilar Corrias will stage a solo show of work by Hayv Kahraman that continues her exploration of embodied experiences of 'Otherness', particularly in relation to the female body
Thomas Dane Gallery has invited Anthea Hamilton to curate the gallery's booth which will include recent works by Hamilton, alongside major pieces by artists including Hurvin Anderson, Lynda Benglis, Abraham Cruzvillegas, Barbara Kasten, Phillip King, Ella Kruglyanskaya, Jean-Luc Moulène, Dana Schutz, Amy Sillman and Caragh Thuring. The booth will incorporate Hamilton's signature approach of considering all aspects of a presentation, including a treatment of the walls and floor
Stephen Friedman Gallery will present the first solo survey of Jeffrey Gibson in the UK, whose mixed-media paintings and sculptures combine indigenous artisanal handcraft with narratives of contemporary resistance, drawing on protest slogans and song lyrics
Gagosian will present a solo presentation of abstract paintings by the much-celebrated Jadé Fadojutimi
François Ghebaly will show a solo presentation by Romanian artist Marius Bercea that combines small and large scale oil paintings in an evolution of his recent explorations of portraiture
Ryan Lee Gallery will present the first UK exhibition of the work of Emma Amos whose figurative paintings often use her own likeness to engage with racial and feminist politics
Lehmann Maupin returns to Frieze London with a three-artist presentation bringing together work by Cecilia Vicuña, Teresita Fernández and Calida Rawles that ask us to consider connections – between individuals and cultures, landscape and lived experience, material and concept, and mind and body
Lisson Gallery will stage a major solo, participatory presentation by Laure Prouvost
Project Native Informant and Arcadia Missa will collaborate on a joint presentation that explores the affinities between their programmes. Including work by Hannah Black and Juliana Huxtable, Phoebe Collings-James, Melike Kara, Joseph Yaegher, Dozie Kanu and Jan Vorisek
Vadehra Art Gallery will present a solo show of work by Atul Dodiya, describing a heterogenous, complex world of political and cultural history.
Alongside the main section of the fair, Focus is devoted to galleries established in the last 12 years and provides a platform for today's most exciting emerging artists. This year's must-see presentations include:
Addis Fine Art will present Selome Muleta, one of the most celebrated female artists to recently emerge from the Ethiopian visual arts scene; her colour-laden interior scenes frequently depict women in states of inner reflection
Emalin will show Sphericity, a new sculptural installation by Latvian artist Daiga Grantina; her largest wall-based work to date
Soft Opening will show From Landing to Arrival, a new project by London-based artist Rhea Dillon that re-considers the concepts of arrival and landing for the Caribbean diaspora
Matthew Brown will show new work by Los Angeles and Accra-based artist Kenturah Davis
Galerie Noah Klink will show a new large-scale installation by Gerrit Frohne-Brinkmann
Union Pacific will show a series of Agnieszka Polska's videos and prints that depict motifs related to technological phenomena, human and non-human imageries, and micro and macro universes
Wschód will present new paintings by Polish-born, Austrian-based artist Joanna Woś.
This year's curated section of the fair,Indra'sNet, overseen by Sandhini Poddar (Adjunct Curator at Guggenheim Abu Dhabi) will feature a selection of international artists whose work engages with the idea of Indra's Net, a term derived from Buddhist and Hindu thought that refers to an ethics of being in which an individual atom holds within it the structure of reality.
Indra'sNet will feature 10 dedicated presentations, as well as a number of displays scattered throughout the main section of the fair, and will feature artists including: Muhanned Cader (Jhaveri Contemporary); Dorothy Cross (Kerlin Gallery & Frith Street Gallery); Shirazeh Houshiary (Lisson Gallery); Jamilah Sabur & Oscar Santillán (Copperfield); Eddie Rodolfo Aparicio & Clarissa Tossin (Commonwealth and Council); Martha Atienza (Silverlens); Teresita Fernandez (Lehmann Maupin); Claudia Andujar (Vermelho); Tomás Díaz Cedeño (Peana); Tuan Andrew Nguyen (Galerie Quynh); Chandraguptha Thenuwara (Saskia Fernando Gallery); Prabhakar Pachpute (Experimenter); Claudia Martínez Garay (Grimm); Goshka Macuga (Kate MacGarry); and Richard Mosse (Jack Shainman Gallery).
Frieze Masters – 10th Anniversary
Celebrating the 10th anniversary of Frieze Masters, the fair will bring together a snapshot of art history – from rare antiquities and Old Master paintings, to luminaries of the 20th century. Frieze Masters highlight stands include:
De Jonckheere will show a solo presentation of works by Pieter Brueghel the Younger
Gisèle Croës will stage an exhibition focusing on a collection of Tang dynasty precious gold and silver cups, bowls and utensils historically used for banquets and feasts
Helly Nahmad, London will present Joan Miró – After The War; a selection of paintings, works on paper and painted textiles executed between 1946 and 1973, emphasising Miró's unique and ever- evolving approach to material and form
ACA Galleries will present an exhibition of pre-eminent African American artists of the 20th century including Romare Bearden, Jacob Lawerence, Faith Ringgold, Aminah Brenda Lynn Robinson and Charles White
Luxembourg + Co. will present a solo show of the American artist Sue Fuller
A collaboration between Gallery Mapa and Paul Hughes Fine Arts will bring together 4,000 years of South American abstraction with the works of the living artist Jandyra Waters, who celebrates her 102nd birthday this year
Gallery Hyundai will show work by Lee Kang-So based on the rhythm of his state of mind, recalling the history of Korean ink painting that was practised with long-haired brushes on paper
Galerie Mitterrand will present a focused selection of historical works by Nikki de Saint Phalle, ranging from the 1960s to the late 1990s.
Galleria Tommaso Calabro will present the exhibition 'Casa Iolas. Citofonare Vezzoli', curated by Italian artist Francesco Vezzoli, which will pay homage to the legendary Greek art gallerist Alexander Iolas (1907-1987) and include work by Victor Brauner, William Copley, Giorgio de Chirico, Max Ernst and Leonor Fini
Richard Nagy will create a Gesamtkunstwerk with works and furniture of the Viennese Secession movement including works by Egon Schiele and Gustav Klimt
Wildenstein & Co., showing in the fair for the first time, will focus on 17th and 18th-century French paintings and drawings by such artists as François Boucher, Philippe de Champaigne, Jean Honoré Fragonard, Jean Baptiste Pater and Hubert Robert
Another first-time exhibitor Martin Beisly Fine Art will show Pre-Raphaelite and Victorian paintings made between 1830-1910, including works by Dante Gabriel Rossetti, Ford Madox Brown, and Edward John Poynter.
Standout
Returning to the fair for the second year, the Standout section of the fair this year explores the idea of 'Global Exchange'. Once again, the section is curated by Luke Syson (Director and Marlay Curator of the Fitzwilliam Museum, University of Cambridge) who describes the makers of art objects as 'open-minded, even large- hearted, to a degree that is unusual in the arts', explaining that 'they embrace ideas, materials, designs and techniques that might have originated very far from home. In a world that today feels both more joined up and more culturally fraught than ever before, the histories of these works trace a complex and fascinating history.' Highlights of Standout include:
Oscar Humphries will focus on Isamu Noguchi's relationship with Japan, featuring works he created while visiting as well as collaborations with Japanese contemporaries. Central to the presentation will be Night Rain II, a monumental sculpture by Masatoshi Izumi, as well ceramics by Noguchi, Kitaōji Rosanjin, the ceramicist with whom he lived worked in the 1950s, alongside ancient pieces from the Haniwa tradition
Prahlad Bubbar will show a selection of 'The Cosmic Dance' pieces, ranging from mother goddess figures of the Mauryan period (300 BC) in Northern India to a 16th-century royal canopy from Golconda in the Deccan region, amongst others
Peter Finer will bring culturally diverse examples of steel weaponry dating from antiquity through to Japan's Edo period
Raccanello & Leprince will show a selection of Renaissance-era Maiolica, featuring pieces by makers including Nicola da Urbino and Francesco Xanto Avelli and their followers, as well as productions of the Fontana workshop
Amir Mohtashemi will showcase works including a pair of 19th-century Indian watercolor paintings of ducks, which would have appeared within an album of 'Company School' paintings by local artists commissioned by Europeans to record the likenesses of flora and fauna.
Spotlight
The much-celebrated Spotlight section of the fair is this year curated by Camille Morineau and the AWARE team. Featuring 26 solo presentations by female artists of the 20th century, the section will draw attention to previously overlooked names and allow a reconsideration of recent history. Highlights include:
Ab-Anbar will present a solo show of works by Iranian artist Sonia Balassanian
DAG will showcase paintings by self-taught Indian artist Madhvi Parekh
Dirimart will present pioneering modernist Fahrelnissa Zeid, bringing together works that link the artist's figurative and abstract periods
The Gallery of Everything will present works by Sister Gertrude Morgan, whose work was featured in this year's Venice Biennale
kó will show rarely-seen work by leading Nigerian artist Nike Davies-Okundaye, featuring embroidery, batik, weaving, patchwork, painting, and mixed media dating from the 1960s to the 1980s
Loeve&Co will focus on Surrealist artist Leonor Fini, bringing together an extended selection of drawings, works on canvas and sculpture, set against the artist's iconic 1946 Lendemain de fête wallpaper
Pace Gallery will debut Mary Corse's The Cold Room (1968/2022), showing this iconic work for the first time in Europe. Bringing Corse's celebrated Light & Space practice into three-dimensions,The Cold Room is a full body, multisensorial experience.
Frieze Viewing Room
Continuing the collaboration launched earlier this year, Frieze Viewing Room will once again work with Vortic, the art world's leading virtual reality platform, employing cutting-edge immersive technology to create VR spaces. These spaces will be integrated within the Frieze Viewing Room platform and viewable on Oculus VR headsets.
Pratical information :
12-16 October
The Regent's Park
Book Tickets