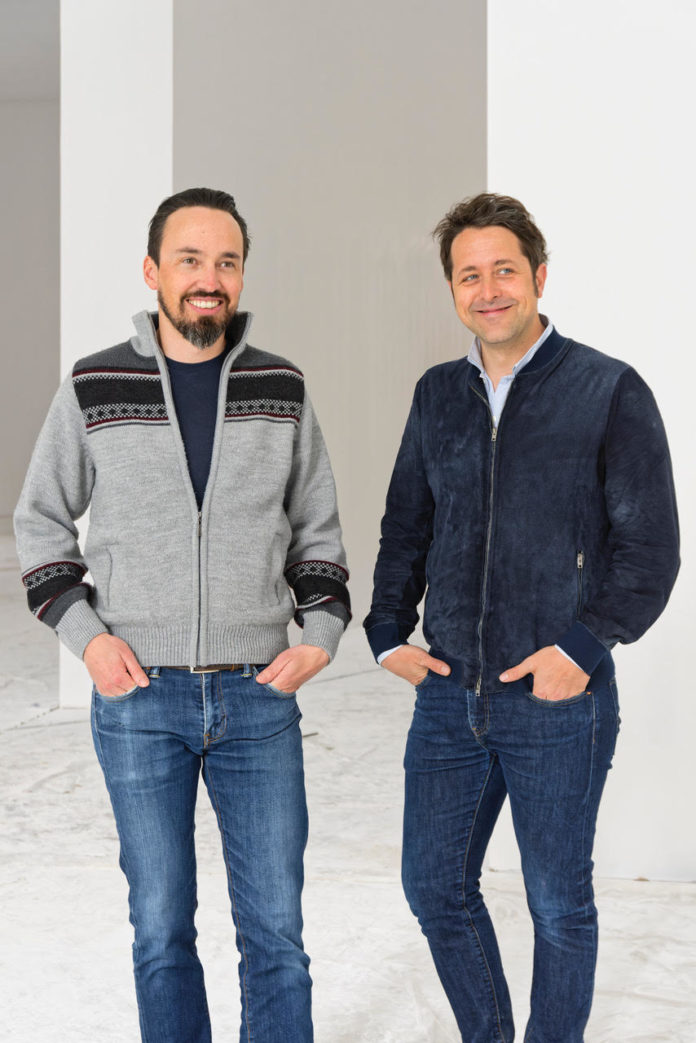 François Ceysson and Loïc Bénétière directors Ceysson & Bénétière, © Cyrille Cauvet
Bernard Ceysson, François Ceysson and Loïc Bénétière, founders and partners of Ceysson & Bénétière's gallery are opening a new chapter to the saga in Saint-Etienne, the gallery's original home after Lyon, Paris, New York, Genève et Luxembourg. A deliberate choice within the new cultural center of Saint-Etienne on a site of more than 1000m², of which Loïc Bénétière and François Ceysson reveal the contours. Regarding fairs, the gallery has decided to participate for the first time in Art-o-rama. A relevant strategy regarding the influence of Marseille and its region and a more ecological approach to art, as they explain alongside Loïc Garrier, director of the Parisian gallery, who has chosen to focus on the Pugnaire Raffini duo. Although FIAC's new edition will take place in the ephemeral Grand Palais in a very busy pandemic calendar, the trio remains confident overall, even if the presence of American collectors remains uncertain.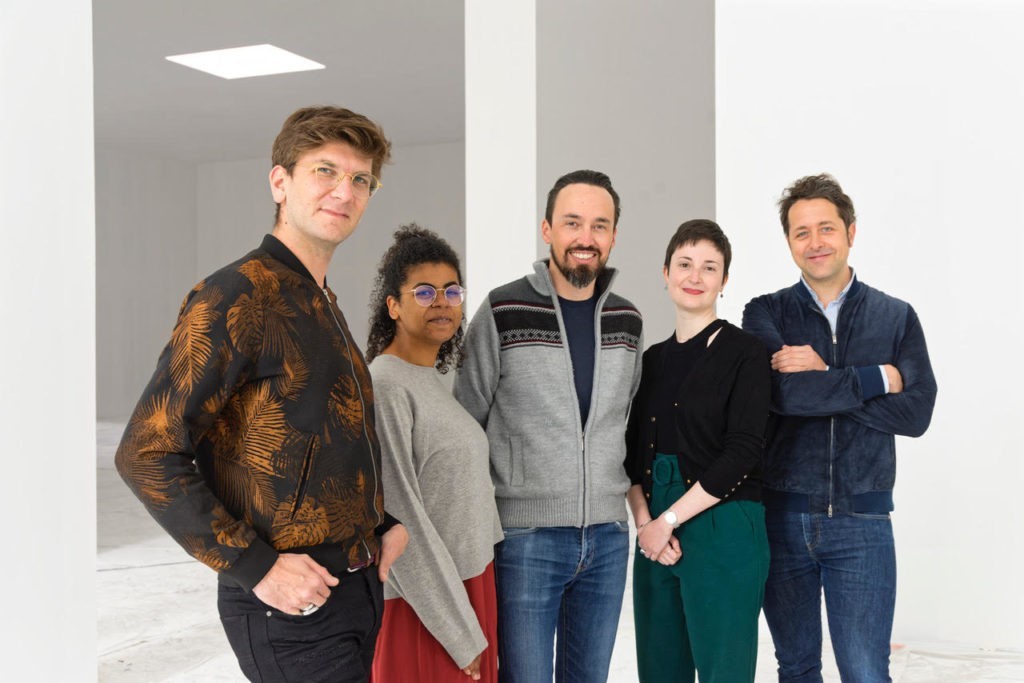 What reasons were decisive for this first participation in Art-o-rama ?
Loïc Bénétière, François Ceysson, Loïc Garrier. We have always followed this fair very closely, both in terms of the choice of exhibitors and its timing. Moreover, we have acquired a solid reputation at a very interesting time of the year, between the end of summer and the start of the new school's year, in a different and complementary calendar compared to the other fairs.
The relationship with local collectors is also an asset based on a real curiosity and ability to see works and be open to possible discoveries. Professionals are also present and it is a privileged moment that we share every time we participate since the Paréidolie fair in 2018. This perspective of a new anchorage in terms of fairs in France was coherent as our gallery participates in numerous international fairs such as FIAC, Art Basel Miami, Frieze…in a city as dynamic as Marseille and the PACA region. We are present since a long time in Auvergne Rhône Alpes (a neighbouring and very close region) and have strong links in the south of France for several years. It is important for us to show this relationship and to encourage this impulse.
Art o rama also gives us the opportunity to show young artists from our programme, knowing that we are generally more often solicited at major fairs for historical periods such as Supports/Surfaces and the 1970s. The Pugniaire and Raffini duo was an obvious choice in that sense, illustrating our desire to support young creation, with artists who have started their careers in Nice with works that are already well followed. The video Driving Through that we chose to show is their most recent creation and echoes perfectly nowadays' reflections dealing with contemporary society's issues. It is a strong work both in its content and in its aestheticism. To sum up, the fair had the advantage of "ticking several boxes" that interested us regarding the promotion of our artists.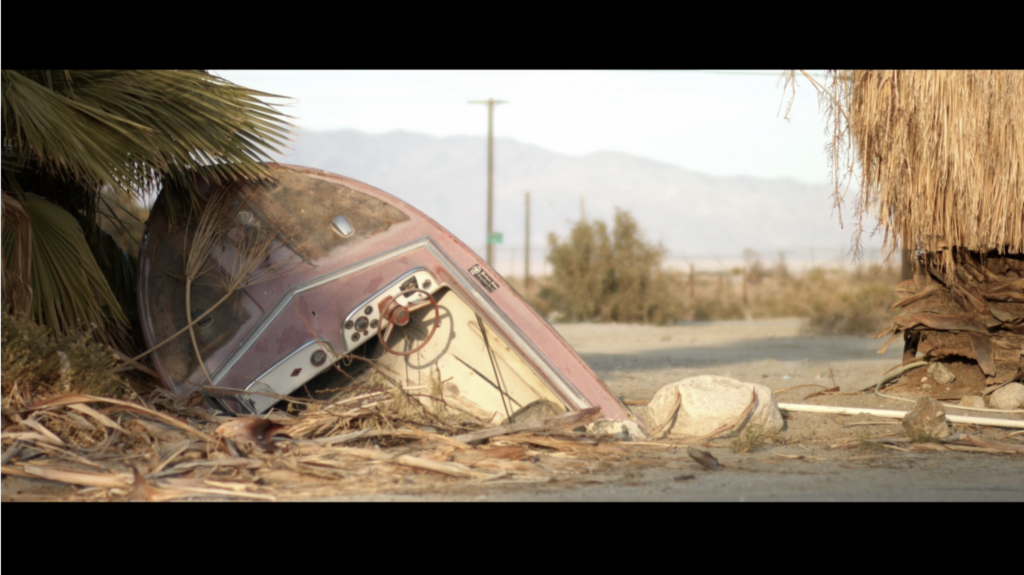 What factors explain the dynamism of Marseille and its region ?
Loïc Bénétière et François Ceysson. Several factors are at the origin of this phenomenon, first of all we observe a regional dynamism that has increased for several years. A city like Marseille is a very active meeting place for artists who are attracted to the area due to economic reasons while remaining connected to the rest of the world, thanks to the transport facilities. Many leading cultural institutions also contribute to the attractiveness of this ecosystem.
We were already measuring it in Saint Etienne where we have been located since 2006 with an exceptional museum of modern and contemporary art and more widely in our region in Grenoble and all over the country. We feel a real evolution in collectors' profile locally and in particular in Marseille and in the South of France where numerous collectors show their attachment to this local scene through their acquisitions.
This observation is also connected to the actual debates dealing with our system's foundations in this pandemic where we are thinking more about ecological issues. Even if it is relevant to take part in fairs all over the world in order to meet collectors, sometimes the right networks are just around the corner and need to be treated with the same high standards as a major international fair.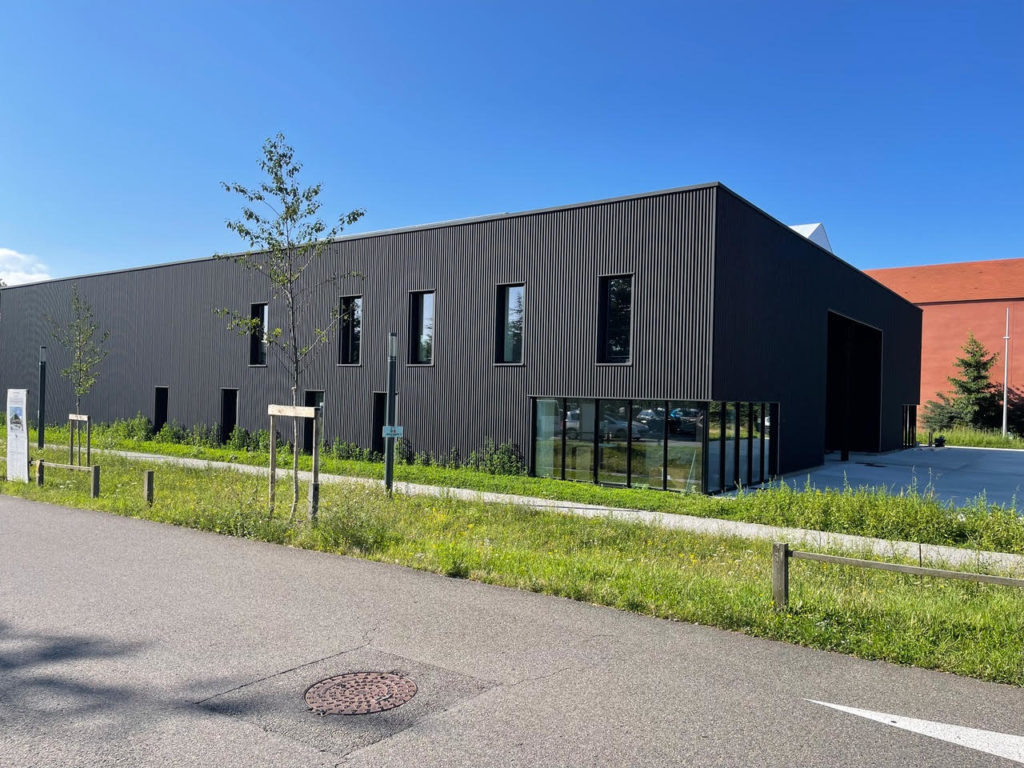 You are opening a 7th space in Saint Etienne, its original location, after Lyon, New York, Paris, Geneva and Luxembourg, what strategy are you aiming for ?
Loïc Bénétière et François Ceysson. First of all, we must specify that our historic space in the center of Saint Etienne will be dedicated to other needs in order to be essentially concentrated on this space of more than 1,000 square metres located in the city's new cultural centre alongside the Zénith, the Cité du design, the Comédie de Saint-Etienne and the Ecole des Beaux-Arts. Our idea, which is in no way revolutionary, was to take advantage of this opportunity to maximise the conditions of exhibition and display of the works, as we did in Luxembourg. We always assume that if we have a good exhibition with good artists, in an exceptional place, whether it is in Saint-Etienne, Clermont Ferrand, Marseille, Nice or Luxembourg, collectors will be present, which encourages artists to be even more challenging. Because of our loyalty to our home town, which we are very attached to and Bernard Ceysson who has been the director of its museum for a long time, it made sense to have such a tool in a region where we are well established.
This project also has a social aspect, and we insist on this point. Indeed, the exhibition's space can offer different programmes and lecture cycles, but also has a bookshop and a restaurant. Offering a global experience to visitors is a dimension that is very important to us. The inaugural exhibition will be devoted to Bernar Venet, who has chosen to respond to the challenge imposed by the venue by concentrating on his mural work of reliefs, complemented by angles, arches and drawings, more classical aspects of his approach. We will also be devoting another event to him in Paris in September, focusing on the so-called conceptual years 1961 and 1963. An almost museum exhibition where nothing will be for sale, with the release of an essay by Bernard Ceysson on the Tas de charbon, an iconic work of art history. These events are intended to celebrate our links with Bernar Venet on his 80th birthday celebrated this year.
FIAC 2021 represents many challenges such as the reduction of space due to the ephemeral Grand Palais but also the crucial question regarding the potential venue of foreign collectors. What is your opinion ?
LB & FB. In our opinion, the FIAC is such a high level fair and represents a major event for our gallery that we are always grateful to participate, whatever the conditions. Our goal being to offer the most rigorous and precise projects as possible.
This year there is indeed a reduction in square metres. The past years, we were lucky enough at the Grand Palais to have a very large stand of 80m² near the stairs, which will be reduced by at least a third. This forces us to adopt a different presentation based on less monumental works than usual, while insisting on some of our artists' historical masterpieces with iconic Supports/Surfaces works. Despite an impact on the architecture of the stand, the theme and the quality of the works will be maintained.
The real concern is the venue of internationals facing a calendar problem with Basel a few weeks earlier and Frieze right after. To sumerize three biggest fairs will be taking place during one month. Such a situation, in an already complicated travel context, will force collectors to make real choices, with possible regarding the number of foreign collectors, particularly Americans, who in our opinion will be missing.
Even if our example is not necessarily revealing, as our foreign collectors are looking for specific historical pieces that can be sold to them by other means online, this fair still generates a high level of expectation and collectors who choose the Fiac prefer the associated programme and the whole atmosphere of the week, as an American couple recently told us.
This allows us to remain optimistic about what will be a real surge of solidarity in travelling to participate to the fair.
En écoute Loïc Bénétière @ FOMO_Podcast 🎧
Version française :
Loïc Bénétière & François Ceysson, Art-o-rama : « L'on assiste à une réelle évolution du profil des collectionneurs en région et notamment à Marseille »
Les trois fondateurs de la galerie Ceysson & Bénétière : Bernard Ceysson, François Ceysson et Loïc Bénétière, ouvrent un nouveau chapitre à la saga à Saint-Etienne, fief d'origine de la galerie après Lyon, Paris, New York, Genève et Luxembourg. Un ancrage revendiqué au sein du nouveau pôle culturel de Saint-Etienne sur un site de plus de 1000m², dont Loïc Bénétière et François Ceysson nous dévoilent les contours. En termes de foires, la galerie a décidé de participer pour la première fois à Art-o-rama. Un choix qui s'inscrit en cohérence avec le rayonnement de Marseille et sa région et une démarche plus écologique de l'art, comme ils l'expliquent aux côtés de Loïc Garrier, directeur de la galerie parisienne qui a choisi de se concentrer sur le duo Pugnaire Raffini. Alors que se profile la FIAC nouvelle version dans le Grand Palais éphémère, dans un calendrier pandémique très chargé, le trio reste globalement confiant, même si la présence de collectionneurs américains fait partie des incertitudes.
Quels arguments ont été décisifs pour cette première participation à Art-o-rama ?
Loïc Bénétière, François Ceysson, Loïc Garrier.Nous avons toujours beaucoup suivi cette foire très pertinente tant par le choix de ses exposants que son inscription dans le temps, ayant acquis une solide réputation à une période de l'année très intéressante, entre fin d'été et rendez-vous de rentrée dans un calendrier différent et complémentaire des autres foires. Le rapport aux collectionneurs sur place est également un atout autour d'une réelle curiosité et aptitude à voir des œuvres et s'ouvrir à d'éventuelles découvertes. Les professionnels sont présents également et c'est un moment privilégié que nous partageons chaque fois que nous participons depuis la foire Paréidolie en 2018. Cette perspective d'un nouvel ancrage en termes de foires en France était cohérente en tant que galerie participant à de nombreuses foires internationales comme la FIAC, Art Basel Miami, Frieze…dans une ville aussi dynamique que Marseille et la région PACA. Nous avons une présence en Auvergne Rhône Alpes (région voisine et très proche) et des liens très forts dans le sud depuis plusieurs années. Il est important pour nous de montrer cette relation et d'encourager cet élan.
Art o rama nous donne de plus l'occasion de donner à voir des jeunes artistes de notre programmation, sachant que nous sommes en général plus souvent sollicités lors des grandes foires sur des périodes historiques telles que Supports/Surfaces et les années 1970. Le duo Pugniaire et Raffini était une évidence dans ce sens, illustrant notre volonté de soutien à la jeune création, les artistes ayant démarré leur carrière dans la région à Nice avec des œuvres déjà très suivies. La vidéo Driving Through que nous avons choisi de présenter est leur création la plus récente et fait parfaitement échos aux réflexions du moment autour de nos sociétés contemporaines. Il s'agit d'une œuvre forte à la fois dans son propos et dans son esthétisme.
Pour résumer, la foire avait l'avantage de « cocher plusieurs cases » qui nous intéressaient dans une logique de promotion et de défense de nos artistes.
Quels facteurs expliquent selon vous le dynamisme de Marseille et sa région ?
Loïc Bénétière et François Ceysson. Plusieurs facteurs sont à l'origine de ce phénomène avec en premier lieu un dynamisme régional de plus en plus évident depuis plusieurs années. Une ville comme Marseille est un lieu de rendez-vous très actif pour les artistes attirés sur place par des questions budgétaires tout en restant connectés au reste du monde, grâce aux facilités de transports. De nombreuses institutions phares concourent également à l'attrait de cet écosystème.
Si au niveau des institutions nous le mesurions déjà comme à Saint Etienne où nous sommes présents depuis 2006 avec un musée d'art moderne et contemporain exceptionnel et plus largement dans notre région à Grenoble, comme sur l'ensemble du l'hexagone, l'on assiste à une réelle évolution du profil des collectionneurs en régions et notamment à Marseille et dans le sud de la France où ils sont très nombreux et manifestent leur attachement à cette scène locale à travers notamment leurs acquisitions.
Ce constat s'inscrit aussi dans les questionnements inhérents aux fondements de notre système en cette période de pandémie où l'on réfléchit davantage aux questions écologiques car s'il est pertinent de participer à des foires dans le monde entier pour aller à la rencontre des collectionneurs, parfois les bons réseaux se trouvent au coin de la rue et il suffit juste de savoir les activer avec la même exigence qu'une grande foire internationale.
La galerie ouvre un 7ème espace à Saint Etienne, son fief d'origine, après Lyon, New York, Paris, Genève, Le Luxembourg, quelle stratégie visez-vous et avec quels objectifs ?
Loïc Bénétière et François Ceysson. Il convient de préciser en préambule qu'en ce qui concerne notre espace historique du centre de Saint Etienne nous allons le convertir à d'autres besoins de la galerie pour nous concentrer essentiellement sur cet espace de plus de 1000 mètres carrés situé dans le nouveau pôle culturel de la ville aux côtés du Zénith, de la Cité du design, de la Comédie de Saint-Etienne et de l'Ecole des Beaux-Arts. Notre idée qui n'a rien de révolutionnaire, était comme pour le cas du Luxembourg, de profiter de cette opportunité pour maximiser les conditions d'exposition et de monstration des œuvres. Nous partons toujours du principe que si nous avons une belle exposition rassemblant de bons artistes, dans un lieu exceptionnel que ce soit à Saint-Etienne, Clermont Ferrand, Marseille, Nice ou Luxembourg, les collectionneurs seront présents, ce qui incite les artistes à se montrer toujours plus exigeants.
Par fidélité à notre ville d'origine dont nous sommes originaires et très attachés, Bernard Ceysson ayant longtemps dirigé son musée, cela avait d'autant plus de sens de se doter d'un tel outil dans une région où nous sommes bien implantés.
Ce projet a aussi une vocation sociale, et nous insistons sur ce point, l'espace d'exposition pouvant proposer différents programmations et cycles de conférences mais aussi une librairie, un restaurant, dans une perspective très ouverte. Offrir une expérience globale aux visiteurs est une dimension qui nous tient à cœur. L'exposition inaugurale sera consacrée à Bernar Venet qui a choisi de répondre au défi imposé par le lieu en se concentrant sur son travail mural de reliefs, complémentés par des angles, des arcs, des dessins, aspects plus classiques de sa démarche. Nous lui consacrons également une autre actualité à Paris en septembre autour des années 1961 et 1963, dites conceptuelles. Une exposition quasi muséale où rien ne sera à vendre avec à l'occasion, la sortie d'un essai de Bernard Ceysson sur le Tas de charbon, œuvre iconique de l'histoire de l'art. Ces évènements ont pour vocation de fêter nos liens avec Bernar Venet à l'occasion de ses 80 ans cette année.
La FIAC 2021 présente de nombreux défis, outre le Grand Palais éphémère et la diminution d'espace, comme la question de la présence des collectionneurs étrangers. Quelle est votre position là-dessus ?
LB & FC. La FIAC est une foire tellement qualitative à nos yeux, présentant un tel rendez-vous pour notre galerie que nous y participons toujours avec bonheur, et quelles que soient les conditions, notre objectif étant de proposer des stands les plus rigoureux et précis possibles. Il y a effectivement cette année une diminution des mètres carrés car nous avions la chance au Grand Palais d'avoir un très grand stand au niveau des escaliers de 80m², qui va se voir réduire d'un tiers au moins de sa surface. Cela nous oblige à adopter une présentation différente autour d'œuvres moins monumentales que d'habitude tout en insistant sur quelques pépites historiques de nos artistes avec des œuvres iconiques de Supports/Surfaces de qualité muséale. Malgré un impact sur l'architecture du stand, la thématique et l'exigence des œuvres seront donc bel et bien conservés.
La vraie question qui va se jouer concerne en effet la venue des internationaux avec une problématique de calendrier ; entre Bâle quelques semaines avant puis Frieze juste ensuite, soit l'enchainement de trois des plus grandes foires en un mois. Une telle situation dans un contexte de déplacements déjà compliqué, va obliger les collectionneurs à poser de vrais choix et l'on risque des surprises sur le nombre de collectionneurs étrangers et notamment les américains qui à mon avis vont manquer à l'appel. Même si notre exemple n'est pas forcément révélateur, nos collectionneurs étrangers étant à la recherche de pièces historiques précises que l'on peut leur vendre par d'autres moyens en online, cette foire suscite toujours néanmoins une forte attente et les collectionneurs qui choisissent la Fiac privilégient la programmation associée et toute l'ambiance de la semaine, comme nous le confiait récemment un couple d'américains.
Cela nous permet de rester malgré tout optimistes sur ce qui représentera un réel élan de solidarité dans le fait de se déplacer.
Practical Information :
Art-o-rama Marseille, International fair of contemporary art
Friche la Belle de Mai,
41 rue Jobin, 13003 Marseille
27-29.08. 2021
Exphibition until Sept. 12
Opening new gallery in Saint-Etienne : Sep.18
Bernar Venet, Reliefs
10 rue des Aciéries, Saint-Etienne